Tuning Fork TherapyŽ
Tuning Fork TherapyŽ using tuning forks on cats chakras
This new book describes the location of each of the 7 major chakras of your cat and also 5 minor chakras. Use this book to help you decide which tuning fork to use on which chakra to help bring your pet health and healing.
Cost of Book
Book in print is $12.99 plus $3.99 for shipment inside of the United States (more if you live outside of the U.S.)
- See more at: http://visual.ly/healing-power-cat-purrs#sthash.NSHEva2v.uF9V8yxg.dpuf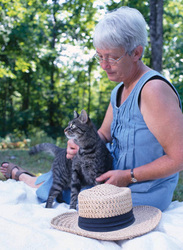 Please Note--I will NOT ship products outside of the United States with totals less than $200. If you want to place a large order, contact me first at TFtherapy@cs.com. If you insist on ordering anyway, your money will be refunded to you LESS the fees paypal charges me for the refund.