Tuning Fork TherapyŽ offers the Genesis Tuning Fork
About the Genesis Tuning Fork
The Genesis Tuning Fork
531 Hz.
When used with other tuning forks, the Genesis tuning fork can cause things to happen. This fork is also used when there is a need to create 'Something.'
When used with the MI DNA 528 Hz repair fork, the Genesis tuning fork helps to repair damaged portions of DNA.
The Genesis tuning fork is included in the Kabbalah Tuning Fork set.
The creators of the tuning fork claim that the tuning fork will move bones and joints back into place when they are out of alignment. They also claim that the tuning fork will also repair and rebuild muscles and tissue.
It would be so marvelous if this were true but I have not yet been able to perform any research on this tuning fork. If you have had some successful experiences with the use of this tuning fork please drop me a line so that I can share your story with others.
Cost of Genesis Tuning Fork is $16.99 plus $6.99 postage and handling.
The Genesis Tuning Fork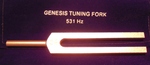 NOTE: ALL forks, courses, certifications and books are non refundable.
Learn how to use the Genesis Fork in the Tuning Fork Therapy level four book.
Cost of Book is $30.00 plus $4.99 postage in U.S.A.
Please Note--Email me for postage to ship order to your country before you place your order