Tuning Fork TherapyŽ and your Dog's Chakra and Acupoints
Tuning Fork TherapyŽ and your Dogs Chakras
New book takes a look at how to use your tuning forks on your dog's chakra system to elicit health and healing.
Book shows both the 7 major chakras and several minor chakras to use on your pet.
Easy to follow diagrams and illustrations.
Book in print is $12.99 plus $3.99 postage inside of United States (postage extra outside of U.S.)
Emailed version is only $10.00 for the ebook. Click below for ebook version.
Direct Contact Technique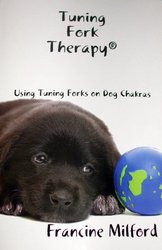 Please Note--I will NOT ship products outside of the United States with totals less than $200. If you want to place a large order, contact me first at TFtherapy@cs.com. If you insist on ordering anyway, your money will be refunded to you LESS the fees paypal charges me for the refund.