Tuning Fork TherapyŽ offers a variety of pendulums
All about Pendulums
The following pendulums have all been made in India.
Prices are for shipping inside of the U.S. only. Please email me at mailto:FrancineMilford@cs.com for pricing to your country. Minimum order of $200 applies to all International orders.
FREE!---After your purchase, you can receive a private link to watch a video on how to use your pendulum.
If you would like to watch this video without making a purchase, the cost is $5. You can order your link below. I will email your link after payment is received.
"How to use your Pendulum" Video Link
Pendulum P-4
Pendulum (P-4)
Cost: $6.99 plus $3.99 U.S. postage
___________________________
Pendulum (P-8) (SEE PHOTO BELOW)
Cost: $6.99 plus $3.99 U.S. postage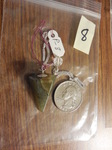 Pendulum P-9
Pendulum (P-9)
Cost: $6.99 plus $3.99 U.S. postage
_____________________________
Chakra Crystal Pendulum/Bracelet-SEE PHOTO BELOW
Chakra Crystal Pendulum (smooth)
Can be worn as a bracelet
Cost: $12.99 plus $5.99 U.S. postage