Tuning Fork TherapyŽ offers a variety of pendulums
All about Pendulums
The following pendulums have all been made in India.
Prices are for shipping inside of the U.S. only.
Please email me at mailto:FrancineMilford@cs.com for pricing to your country.
There is only 1 available of each one listed below.
Each is unique in its own energy.
ALL are on SALE now.
Once gone-they will be gone forever!
Pendulum P-4
Pendulum (P-4)
Cost: $3.99 plus $3.99 U.S. postage
___________________________
Pendulum (P-8) (SEE PHOTO BELOW)
Cost: $3.99 plus $3.99 U.S. postage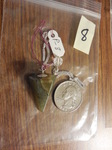 Pendulum P-9
Pendulum (P-9)
Cost: $3.99 plus $3.99 U.S. postage
_____________________________
Chakra Crystal Pendulum/Bracelet-SEE PHOTO BELOW
Chakra Crystal Pendulum (smooth)
Can be worn as a bracelet
Cost: $12.99 plus $5.99 U.S. postage