Tuning Fork TherapyŽ offers Brain Tuners Set
About the Brain Tuner Set
Made in the U.S. from Biosonics
The Brain Tuners are a set of five tuning forks that can be used to change your states of consciousness. Each of the tuning forks is set to one of the following States of Consciousness:
Beta for Peak Concentration and Cognition
Alpha for deep Relaxation and Creativity
Theta for Meditation and Intuition
Delta for Healing and Deep Sleep
Fifth Fork-Fundamental tuning fork
Pamphlet included on how to use your Brain Tuners.
Cost of set of tuning forks in velvet case is $109.99 plus $13.99 postage inside of the United States only.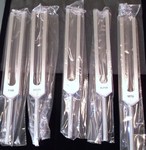 Order Brain Tuner Set by Biosonics
Order the set of Brain Tuner Set from Biosonics.
Cost of forks with wooden stand is $139.99 plus $13.99 for postage inside of the United States only.
If you live outside of the U.S. please contact me for postage costs to your country.
Instructions from Biosonic included.