Tuning Fork TherapyŽ offers Sound Kit with Tuning Fork
Tune Up Science Sensors Activity Kit
This kit is great for children (and adults) alike to feel and explore sound vibrations, resonance, and to learn about soundy energy and waves. Watch my video clip and some demonstrations on www.youtube.com.
What your Kit contains
Your kit contains the following items:
*Premium Tuning Fork (C-512 Hz) from Medivibe Technology
*Plastic Box
*Wooden block
*Plastic tube
*Plastic cup
*Sand
*Small Scoop
*Full Instructions and more...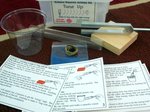 Cost of Kit
Cost of kit is $17.99 plus $6.99 postage inside of the United States.