Tuning Fork TherapyŽ
About the Tuning Fork TherapyŽ Crystal Practitioner Certification
Learn how to combine crystals and gemstones with tuning forks in the healing session.
Become a certified Tuning Fork Therapy® Crystal Practitioner and teach your own classes and workshops.
Simple and easy to learn.
You will love the book and working with the crystal tuner.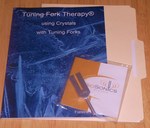 Order Below
Become a Tuning Fork Therapy® Crystal Practitioner.
Certifications includes:
*8" x 11" color book
*crystal tuner
*certification
Successful completion of this course allows you to teach course to others. You may purchase future books from the Reiki Center of Venice for $35 plus postage, to teach your own classes with.
Cost of Certification is $129.00 plus $13.99 postage.
Or- you can order the certification with NO crystal tuning fork for only $115 plus $9.99 postage in U.S.
If you would like to take an in-person, one-on-one class with me, we can arrange that at any time or day but the cost would be $199 for 4 hours of instruction.
Copyright © 2000-2019 Tuning Fork Therapy®. All rights reserved.