Tuning Fork TherapyŽ
About the 528 MI DNA Repair Tuning Fork
The 528 MI DNA Repair tuning fork is the third note of the original 6 Sacred Solfeggio frequency.
It represents the MI, for Miracles and is the exact frequency used by genetic engineers throughout the world to repair the blueprint of life, DNA.
Cost
528 MI DNA Repair tuning fork.
Cost: $24.99 plus $7.99 priority postage in U.S.A.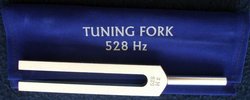 Please Note--I will NOT ship products outside of the United States with totals less than $200. If you want to place a large order, contact me first at TFtherapy@cs.com. If you insist on ordering anyway, your money will be refunded to you LESS the fees paypal charges me for the refund.