Tuning Fork TherapyŽ
Planetary tuning fork sets & Certification
Tuning Fork Therapy®: Planetary Tuning Fork Book is chock full of information on how to use your Planetary tuning forks. Included are all the planets including Pluto, the Sun and the Moon.
11" x 8 1/2" paperback book contains 80 pages of double columns of information.
Everything you wanted to learn and more about your tuning fork set.
BUT WAIT! There's MORE!
You will also receive the planet emanuals listed to the right of this page for FREE with purchase of the TFT Planetary Certifcation.
The emanuals help to give you more information on the planets.
Cost for printed Planet Book is only $25 in print plus $4.99 postage inside of the United States Only!
11 pc Planetary Tuning Fork Set
11 piece PREMIUM set includes:
Cost of 11 pc. set of Planetary Forks ONLY is $169.99 plus $13.99 postage in United States.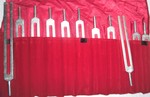 Planetary Manuals included
Learn more about each of the planets listed in the book by ordering specific emanuals and attunements listed below. Each emanual contains additional information on the specific planet along with symbols that you can use to enhance the healing process.
All manuals, attunement and certificate will be emailed to you.
Jupiter
Mercury
Neptune
Mars
Saturn
Pluto
Uranus
Venus
TFT Planetary Certification
Order your TFT Planetary Certification for only $150.00.
All additional emanuals, attunement and certificates will be emailed to you.
The 8 emanuals are all self-attunements and are offered free along with the TFT Planetary Certification.
The attunement process for the TFT Planetary Certiication will be sent to you after the attunement has been given.
The entire package of attunements AND 1 ebook book (without tuning forks) is $150.00: Tuning Forks are extra.