Holistic Aromatherapy Certification Course-Levels I and II
See Information on Certification at Bottom of Page
Welcome to Aroma~Care™
Aroma~Care™ is a series of instructional booklets on a variety of uses for essential oils.
"Aromatherapy" comes from two words, 'Aroma' which means scent and 'Therapy' referring to the treatment of a physical or mental condition. Together, the word 'Aromatherapy' means treating a physical or mental condition using scent.
The scents that are used in this modality comes from essential oils. Essential oils are derived from plants that have been valued for their therapeutic properties for more than 5,000 years.
In Aroma~Care™: Pet Aromatherapy, we discover ways to use essential oils in helping our pets cope with their environment in a natural way.
Included are recipes to help pets who are suffering from arthritis, colds, fleas and even bad breath.
Just like in humans, essential oils can also be used to relieve anxiety and fear in pets who have been through a traumatic event.
Learn how to add essential oils to shampoos, powders, sprays and even toothpaste.
When used properly, essential oils should produce no harmful side effects. Seek professional advice before beginning any form of self treatment for you or your pet.
For free recipes, formulas, blends and more...visit the main website at www.AromaCareBooks.com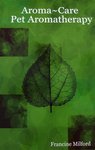 Aroma~Care ™: Pet Aromatherapy
Aroma~Care ™: Pet Aromatherapy
In this book you will receive recipes to create natural pet sprays, pest powders, dental care pastes, flea shampoo, cat collar, pet bath time recipes, bad breath recipes, ear problems and more.
Only $12.00 plus $4.99 postage
Aroma~Care™: Make your own Magical Blend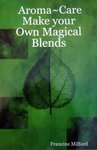 Aroma~Care™: Make your own Magical Blend book
In this book you will learn the basic guidlines for using oils and blending your own personal formula. You will also be instructed in how to choose your carrier oil and essential oil for the perfect blend.
This book contains a sample list of essential oils for the Zodiac and the Planets. So go ahead and create a blend to bring in healing, or even one to create cash flow. The possibilities are endless!
Only $12.00 plus $4.99 postage
Aroma~Care™: Make your own Perfume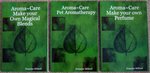 Aroma~Care™: Make your own Perfume
In this book you will discover how to create your very own signature blend at well below market prices. Make a perfume blend that suits your personality or even your Zodiac sign.
There are some sample blends of perfumes just to get you started along with making floral water and perfumed body oil.
Only $12.00 plus $4.99 postage
Holistic Aromatherapy Certification Course-Levels I and II
250 hour course
Two Courses for a total of 250 hours of Professional Training.

*After successful completion of these two courses, you may sit for the Registered Aromatherapist (RA) national exam.
Aromatherapy Certifications: We are a NAHA Level 1 & 2 Approved School offering Holistic and Professional Certification Programs. Open enrollment to match your schedule. We offer your choice of either a Home Study Course where you will receive your manual, DVD, and dried Calendular leaves delivered directory to your home or place of business-or-You can take the entire course online (sorry-no dried calendula leaves included in this option) but you do save money.
Course I: Introduction to Holistic Aromatherapy Certifcation - 50 hours - $150
Course II: Advanced Holistic Aromatherapy Certification - 200 hours -$150 (for my level one students only)
Courses follow the standards and suggestions on the National Association of Holistic Aromatherapy (NAHA).
All brand new and up dated information.
Discover how you can have an exciting career in Aromatherapy
Course includes manual, CD/DVD. assignments and final exam.
Essential oils are NOT included in this course but is available for an additional fee. As prices change with availability, contact TFtherapy@cs.com for current prices of oils and accessories.
Students will have to complete the following for certification:
5-10 page research paper
10 case studies and follow-ups
Final Blend creation
Final Level Test
***You will also receive an instructional CD or DVD to watch and follow along.
*****As an added bonus and for a limited time-you will also receive a bag of dried calendula and an instructional CD or DVD with instructions on how to make your own Calendula oil. ALL FREE!
Order Level One Basic Aromatherapy Level One Certification for $199 plus $13.99 postage here:
NOTE: ALL forks, courses, certifications and books are non refundable.
However, should a fork arrive damaged, return immediately for a prompt replacement. Do NOT wait more than two weeks after delivery to return defective merchandise as I will not honor the request.
Student Comments
Thank you! Thank you! Thank you! I learned so much and have so much to learn. See you in part II.
R.M on Tuesday, May 28, 2019