Tuning Fork TherapyŽ offers activators, mallets, and accessories
Activators, mallets, and accessories
Hockey pucks and accessories may be added to your other flat rate orders without paying extra postage. Send an email to FrancineMilford@cs.com and she will add up your order and send you an invoice. Contact me before you order to see if your order qualifies for reduced postage or student discounts.
Hockey Pucks WITH or WITHOUT hole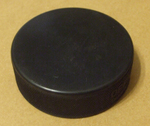 Black Hockey Puck
The Hockey Puck fits perfectly in the palm of your hand so that you can hold it in one hand during your sessions to activate your tuning forks.
Hockey Puck measures 3" diameter across the top and bottom.
Nearly 1" tall.
Weight 6oz.
Handy, convenient and easy to use. You will love this item.
NO hole
Cost of black hockey puck is $2.99 plus $7.99 postage inside of the USA. for one and $5.00 plus $6.99 US postage for two.
Choose below:
To order one Hockey Puck
Rubber and Wooden Mallets
Choose from 'large' or 'medium' wooden mallets with rubber ball.
Sorry, but there is no choice of color.
Large Mallet Cost: $5.99 plus $5.99 U.S. Shipping
(Product can be added to your order along with other products without paying additional postage-ask for more information)