Tuning Fork TherapyŽ
Tuning Fork TherapyŽ Level Six
Your Choice---Home Study - or - come in person.
*Home Study: Tuning Fork Therapy® Practitioner certifications are available for Home Study/Distant Learning. All eight levels of training is also vailable for on-site learning. Home Study options include tuning forks, book, hand outs, and certificate.
*In Person: On-site individual courses include forks, book, hand outs, and certificate.
What you will receive:
1 Tuning Fork Therapy® Level Six Book
1 adjustable tuning fork
1 packet of information which includes test, assignments, etc.
Please contact clare@charitydiy.org for pricing informaiton.
What is Covered in Course:
What is Auricular Therapy?
Anatomical Regions of the Outer Ear
Master Control Points
Common Auricular Points
Reference for Common Diseases
Tonification and Sedation
Chinese Five Element Points
Zero Point
Shen Men
Tuning Fork and their Association
Protocols
Points on the Spine
Protocols for the Spinal Column
Client Form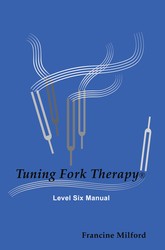 Copyright © 2000-2021 Tuning Fork Therapy®. All rights reserved.