Tuning Fork TherapyŽ
Tuning Fork TherapyŽ Level Six
Your Choice---Home Study - or - come in person.
* Home Study-$249 plus shipping costs
* In Person-$499
*Home Study: Tuning Fork Therapy® Practitioner certifications are available for Home Study/Distant Learning. All eight levels of training is also vailable for on-site learning. Home Study options cost $249.00 and include tuning forks, book, hand outs, and certificate.
***Students receive 8 FL Massage CE's and 8 NCBTMB CE's for successful completion of the Home Study course.
*In Person: On-site individual courses cost $499.00 and include forks, book, hand outs, and certificate. On-site classes earn 8 FL Massage CE's and 8 NCBTMB CE's. This qualifies as a LIVE massage class with focus on massage therapy.
*You must receive your training from a certified and registered instructor in order to be included on the database. If you are not sure whether your instructor qualifies, drop me a note at TFtherapy@cs.com and I will let you know. Or, you can check the database of registered practitoners on the official website at www.TuningForkTherapy.com
*Become a certified and registered Tuning Fork Therapy® Practitioner by taking your courses through this website. Each successful completion of a level entitles you to teach, certify and register others in that level. Certified and registered students will also be able to receive discounts on books and tuning forks for themselves and their students. Instructors and practitioners will also be listed for free on the Tuning Fork Therapy® Practitioner database. Sorry, but you must begin your journey with the first step-Level One.
What you will receive:
1 Tuning Fork Therapy® Level Six Book
1 adjustable tuning fork
1 packet of information which includes test, assignments, etc.
Total cost of course and certification is $249 plus $15.99 postage.
***For orders outside of the United States, cost of shipping is $80.00. Click here:
What is Covered in Course:
What is Auricular Therapy?
Anatomical Regions of the Outer Ear
Master Control Points
Common Auricular Points
Reference for Common Diseases
Tonification and Sedation
Chinese Five Element Points
Zero Point
Shen Men
Tuning Fork and their Association
Protocols
Points on the Spine
Protocols for the Spinal Column
Client Form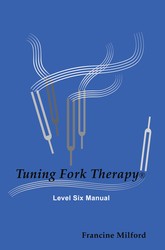 Copyright © 2000-2020 Tuning Fork Therapy®. All rights reserved.