Tuning Fork TherapyŽ offer the Solfeggio tuning fork sets
About the Sacred Solfeggio Tuning Fork Set
The nine piece Sacred Solfeggio tuning fork set contains the following frequencies:
Six Original Frequences:
UT (or Do) – 396 Hz
RE – 417 Hz
MI – 528 Hz
FA – 639 Hz
SOL – 741 Hz
LA – 852 Hz
Three Additional Frequencies:
TI - 963 Hz -Crown
174 Hz - Soul Star
285 Hz - Earth Star Chakra
Please Note--I will NOT ship products outside of the United States with totals less than $200. If you want to place a large order, contact me first at TFtherapy@cs.com. If you insist on ordering anyway, your money will be refunded to you LESS the fees paypal charges me for the refund.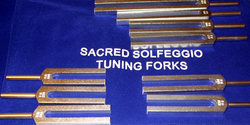 Cost of Set
Cost of Sacred Solfeggio Tuning Fork Set~(U.S. delivery)=$129.00 plus $13.99 postage. Call for postage to your country.