Tuning Fork TherapyŽ
About Tuning Fork TherapyŽ and Fibromyalgia
The Tuning Fork Therapy® and Fibromyalgia book tries to bring pain relief and healing to those who suffer from this often debilitating condition. Readers will learn what the most recent studies are concluding about this condition and how this knowledge can be of benefit to sufferers. A chapter on how to locate professional researched studies is also included so that readers will be able to follow all current and future trends in the study of fibromyalgia.
This book will guide you on how to use your tuning forks on a variety of sensitive points on the body to bring about relief. All diagrams and directions are written in an easy to read, understand and follow format.
Also included in the book is a chapter on aromatherapy and how specific essential oils can be used to help a host of symptoms.
For more information on Aromatherapy please visit http://www.AromaCareBooks.com.
Cost of Kit
Order the Kit
Your will receive:
1-Book
1-Student Harmonic Set
(unweighted)
1-Hockey puck
Cost: $74.99 plus $12.99 priority mail (in U.S.)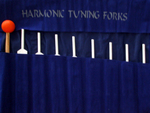 Upgraded Kit
Get the Upgraded Kit here:
1-Book
1-Premium set of Harmonic tuning forks
(unweighted)
1-Hockey Puck
1-Rubbet Mallet
Cost: $129.99 plus $12.99 priority mail (in U.S.)
Save Money on Postage
and Save a Tree
Order a copy of book by email.
Cost of E-book ONLY
$12.00