Tuning Fork TherapyŽ
Intro to Tuning Fork TherapyŽ ~ FREE COURSE
Enjoy this FREE online course to learn all the basics of using tuning forks.
There is NO certificate and NO ce's offered for completing this FREE course, only the knowledge that you will gain from taking it.
Most of the information is used in my training manuals.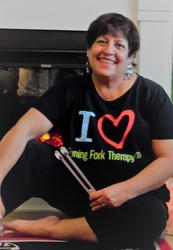 Lesson One~Introduction
Lesson Two
Lesson Three
Lesson Four
Lesson Five~The Science of Sound
Lesson Six~Using Tuning Forks
Copyright © 2000-2021 Tuning Fork Therapy®. All rights reserved.