Tuning Fork TherapyŽ
Tuning Fork Methods and Techniques
Under Construction
Check out short demo videos at www.YouTube.com
Just put 'Francine Milford' in the search box. There are five video clips for you to view.
*
*
Marissa Vaudo uses the Double Fork Technique
How-To
Do Hold Your Fork:

Do keep wrist relaxed and flexible

Do keep fingers firm, yet soft

Do keep your elbows bent and relaxed

Do keep your arms relaxed and free flowing

Do hold tuning fork at the very end


Don't Hold Your Fork:

Don't grasp the fork up at the tines

Don't grasp the fork tightly

Don't keep your wrist and elbows locked

Don't keep your arms stiff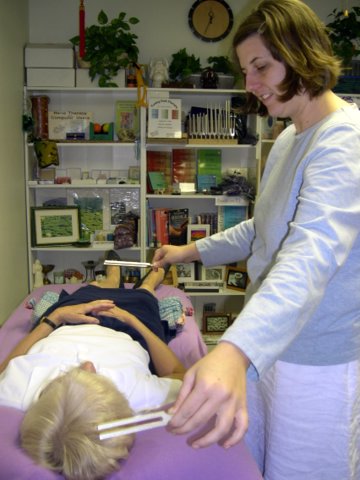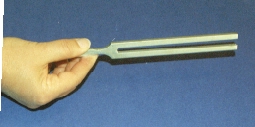 Double Fork Techique
Students in the Tuning Fork Therapy®, Level One class learn how to use double forks to achieve a variety of stimulating or sedating responses in the body.
Using the High 'C' tuning fork at the Soul Star Chakra and the 'D' tuning fork at the Sacral Chakra will stimulate the reproduction organs, balance the appetite, and stimulate the assimilation of food in the body.
How to Hold the Tuning Fork
How to Activate your Tuning Fork
*

In order to assure the best quality sound when activating your tuning fork, look at the tuning fork
in the picture. Notice where the tines of the tuning fork are striking the hockey puc. This is the best place on your tuning fork to strike a surface.
But that is not the only way to activate your tuning fork. There are dozens of other ways to activate your tuning forks. To learn more about some of them, check out the Tuning Fork Therapy level one book. The book will tell you how to increase, or decrease, the sound of the tuning fork.