Tuning Fork TherapyŽ
The Evil Eye
Below you will find many pieces of jewelry that were created to symbolize 'good luck' and 'protection' again the evil eye.
What is the Evil Eye?
Simply put, the evil eye is a look-or sustained glance-that some believe is able to cause injury, disease, death or bad luck to the person at whom this look is directed at. Some negative people who wish to harm others due to reasons of envy, hate, jealousy, etc. are the biggest population of people to use the evil eye.
Since I grew up with Italian parents, I was made aware of this curse from a very young age. In Italian, the evil eye is called malocchio. It was important to always 'guard' yourself against the evil eye.
One of the ways that you can ward off this curse is by carrying a talisman, like the Hamsa, that will turn away the evil eye from the wearer and send it back to sender. You can place your Hamsa in your home, car, boat, or wear them as beads around your neck, waist, wrist or ankles.
Test to see if an Evil Eye is present in your life:
Take a small glass of water (preferably Holy Water), and add one drop of olive oil to it. If the drop of oil floats on the top of the water, then no evil eye is involved. If the drop of oil sinks to the bottom of the glass of water, then an evil eye has been cast on you.
Sorry, there is no refund or returns accepts on these items unless they arrive damaged in the mail.
All postage costs listed are for shipment inside of the U.S. only. Please email me for shipping costs to your country FIRST.
Evil Eye Earrings
Evil Eye earrings comes in a variety of colors.
Choose your favorite from the list below.
All earrings are for pierced ears.
Cost of earrings: $1.99 plus $2.99 postage
Black
Light Blue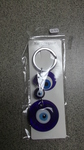 Evil Eye Keychains
Color as shown.
Cost: $2.99 plus $2.99 postage
Save $$$ and order two at the same time.
Cost of two Evil Eye Keychains: $5.00 plus $5.99 postage.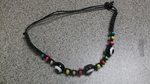 Buy the Set and Save $$$
Order the Set and Save $$$
You will receive:
1-Keychain
1-Adjustable Bracelet
1-Elastic Bracelet
1-Pair of Earrings
Cost: $6 plus $5.99 for priority mail
Only 1 set left.
Black Cord Evil Eye Bracelet
Fits most wrists.
Black Cord.
Adjustable.
Cost $2.99 each plus $2.99 for U.S. postage.
Black Cord Evil Eye Bracelet